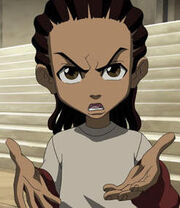 Profile

Race

Human

Hometown

Lunar Skyline, California

Age

15

Alignment

Lawful Good

Status

Student
Aiden Menderson is a fifteen year old freshman at Sunrise High School, and resides in the city of Lunar Skyline, California. He, along with friends Eric Sagewater and Benny Sanders, now searches for his best friend Julyan "Chrons" Novas after acting on suspicions about Julyan's disappearance.
Biography
Edit
Personality
Edit
Relationships
Edit
Ad blocker interference detected!
Wikia is a free-to-use site that makes money from advertising. We have a modified experience for viewers using ad blockers

Wikia is not accessible if you've made further modifications. Remove the custom ad blocker rule(s) and the page will load as expected.