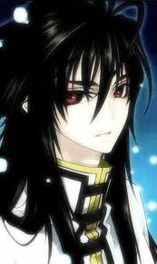 Gabriel Silveros is an eighteen year old Senior Inquirer enrolled at the Elysian Institute of Advanced Inquiry, where he studies pretachyonic history. He is the aide of Mentor Alistair Marcellus, guiding several discussion sessions for Marcellus' classes. Unlike a good portion of the students at the Institute, Gabriel actually resides in Alens Lacarma in Elysia , being of Elysian descent himself.
Gabriel's leitmotif is L's Theme.
Profile

Race

Elysian

Hometown

Alens Lacarma, Elysia

Age

18

Alignment

Lawful Neutral

Status

Senior Inquirer
Ad blocker interference detected!
Wikia is a free-to-use site that makes money from advertising. We have a modified experience for viewers using ad blockers

Wikia is not accessible if you've made further modifications. Remove the custom ad blocker rule(s) and the page will load as expected.