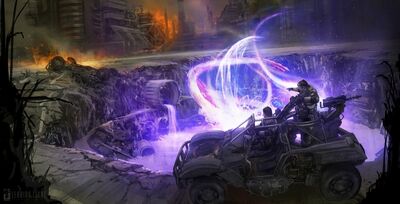 The Psion War was a century long conflict that took place between roughly 2214-2305.
The Psion War

| | |
| --- | --- |
| Earth Forces | Psion Forces |
| Commanders:Nereus, Aiolus, Seraphina, Herminius | Commanders:Jacques Talin |
| Casualties:Estimated 300 million | Casualties:Unknown |
| Aftermath: | Aftermath: |
| Humans forced to leave system and search out new home | Psion Forces retreat into hiding on Earth |
The Beginning Stages
Edit
Tactics, Weaponry
Edit
End of the War
Edit
Aftermath
Edit
Ad blocker interference detected!
Wikia is a free-to-use site that makes money from advertising. We have a modified experience for viewers using ad blockers

Wikia is not accessible if you've made further modifications. Remove the custom ad blocker rule(s) and the page will load as expected.